Are you looking for non-toxic ways to clean your couch and upholstery? Wondering, can you clean your couch in some eco-friendly ways? The answer is yes, you can. With the below given 5 homemade natural upholstery cleaners, you can achieve the best-looking and clean couch effortlessly. Without any delay, let's dive deep into 5 eco-friendly ways to clean your couch. Our professional couch cleaners provide best way to clean your couch.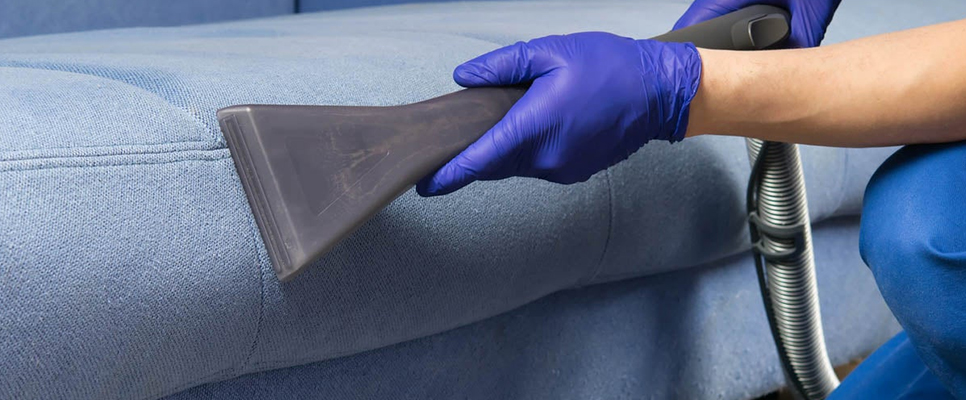 Here Are 5 Eco-Friendly Ways To Clean Your Couch
Dish Soap and Hydrogen Peroxide
To prepare this couch cleaner, you will need ½ cup of dishwashing detergent and 1 cup of hydrogen peroxide. Gently spray it on the couch and let the cleaner rest for 2 to 3 minutes. Then, scrub gently with a rag or cloth. In case, the fabric gets soapy, simply wet it and blot it. You may see too many bubbles but it's totally fine, the results you will get will be amazing and satisfying.
Club soda & vinegar solution
To make this solution you need one cup each of vinegar, club soda and dishwashing detergent. Mix and pour it into a spray bottle and apply on the fabric till it gets lightly soaked. Then, scrub using a soft-bristled brush in a round motion. Spray using water and dry the upholstery using a steam cleaner or vacuum. However, it is a time taking task but surely gives an amazing outcome.
Baking Soda and white vinegar
Mix 1 teaspoon of white vinegar and dish soap with 2 cups of lukewarm water. First, sprinkle the baking soda on the dirty section of the couch and then vacuum it after 10 minutes. Later on, spray the prepared mixture, let it stay and then do a blot dry. It is a preferable solution to remove stains.
White Vinegar and Alcohol
Use 1 cup each of white vinegar and alcohol to prepare a mixture. Pour it into a spray bottle, spray it softly and wait for 2 minutes. Scrub using a sponge and let it dry. Check if the stains are gone, if the results are not satisfactory, repeat it. This solution works best for ink and paints stain removals.
Rubbing Alcohol Solution
Add one teaspoon of white vinegar to a ⅔ cup of rubbing alcohol. Mix both ingredients and store them in a spray bottle. You can either pour it on fabric or spray it. After scrubbing this mixture, you can see the removal of dust and dirt and the fabric shines differently.
You can utilise any of these 5 eco-friendly ways to clean your couch as per your situation and you will be amazed by the results.
Other Eco-Friendly Ways To Clean Your Couch
If you do not wish to use water-based cleaners, try mixing half a cup of baking soda and cornstarch each with a pinch of water. Form a paste by mixing the ingredients and applying them to the upholstery. You need to wait for ½ hour to let it dry fully. As soon as the paste dries, remove it and vacuum the upholstery. Moreover, dry upholstery cleaners are best suited for delicate fabrics, especially leather.
Water-based upholstery cleaner
This question often arises in the minds of people who own upholstery furniture at home. If you are one of them, you require 16 ounces of water, liquid hydrogen peroxide and baking soda. Combine the mixture and pour it into a dark-coloured spray bottle. Use a hand or cloth to evenly spread the mixture on the fabric to clean your couch.
Laundry detergent Mixture
Add 2 teaspoons of white vinegar to the 2 teaspoons of laundry detergent, 1 tablespoon of baking soda and 1 cup of hot water. (Baking soda is optional). Sprinkle the mixture on your fabric and rub thoroughly. Let the mixture air dry and later vacuum it. You can observe a quick change in the colour of your fabric- it looks refreshed, smells fresh and adds life to your furniture.
In some situations, you can also try these ideas along with the above-given 5 eco-friendly ways to clean your couch.
Essential Oils For Couch Deodorization
Try doing it on alternative days for a week and feel the change. It will make the indoor air cleaner and make your upholstery smells better. Here are some examples of essential oils that can be used for couch deodorization:
Lavender essential oil: This oil has a sweet, floral scent that can help to freshen up your couch and create a relaxing atmosphere.
Lemon essential oil: This oil has a refreshing, citrus scent that can help to neutralize odours and leave your couch smelling clean and fresh.
Tea tree essential oil: This oil has a fresh, medicinal scent that can help to eliminate odours and kill bacteria that may be causing unpleasant smells.
Peppermint essential oil: This oil has a cool, minty scent that can help to mask odours and create a refreshing atmosphere in your home.
Eucalyptus essential oil: This oil has a fresh, invigorating scent that can help to eliminate odours and improve air quality in your home.
To use essential oils for couch deodorization, you can add a few drops to a spray bottle filled with water and spray the mixture onto your couch. Alternatively, you can add a few drops of essential oil to a bowl of baking soda and sprinkle the mixture onto your couch. Let the mixture sit for a few hours before vacuuming it up to remove any odours.
Conclusion
We hope you find the answer to your need for "5 eco-friendly ways to clean a couch" Well, with plenty of options available, you can try making your own DIY natural upholstery cleaner. However, as all upholstery fabrics differ from each other, it is ideal to not risk cleaning your upholstery yourself with any random homemade cleaner. You may end up damaging your upholstery fabric or losing your favourite couch. Instead, do try a patch test on a hidden section before actually cleaning it.
We strongly recommend hiring a professional who offers eco-friendly upholstery cleaning treatments. Hiring experts is safe and pocket-friendly to give a new look to your couch and upholstery.