Restore The Newness And Hygiene Of Your Upholsteries With CBD Couch Cleaning Adelaide
CBD Couch Cleaning Adelaide is a licensed company that is solely dedicated to making your expensive upholstered couches clean, spotless, and lustrous with flawless couch dry cleaning solutions. Dirty, muddy, and stained couches welcome several disease-spreading living microorganisms, including bacteria, viruses, moulds, and mildew that cause several threatening ailments. With direct contact with moulds or other allergens, your family members, especially those who are allergy-prone can suffer from skin rashes, respiratory diseases, etc. A soiled couch can even deteriorate the appearance of your premises.
But there is nothing to worry about as our industry-expert couch cleaners chalk out customised treatment options as per the condition of your couch without affecting its fabric colour and texture. Using industry-approved cleaning agents, we help eliminate the most obstinate stains trapped in the deeper fabric layers, disinfect them, and make them shiny, polished, and germ-free at a reasonable price rate. Call (08) 7100 9115 today to book our couch cleaning services!
Benefits of Professional Dry Couch Cleaning Services
A lot of homeowners prefer DIY cleaning approaches to save a few pennies, without considering the consequences. Each upholstered furnishings require an individual cleaning technique, or else it can get premature wear and tear. For example, the delicate fabric needs Professional couch dry cleaning services, otherwise, the fabric could get damaged. Professionals, knowing what's best for your couch, offer tailor-fit cleaning treatment. The top-notch benefits of hiring experts include:
Add more life to your couches: When your couches are cleaned and maintained by professionals regularly, it stays in their best-fit condition, adding more years to their lifespan.
Maintain hygiene: Professionals eradicate all dirt, germs, allergens, dust mites, stains, and odour, allowing your family members and pets to stay in healthy and hygienic premises.
Keep your couches polished: With special Dry cleaning techniques, the professionals clear out the stains, grime, and dirt smoothly from your pricey couches without wetting them.
Comfort at its peak: Firstly, the professionals take the entire responsibility of cleaning your super dirt couches. Secondly, they hand you over a couch that is immaculate, pristine, and fresh-smelling, giving you the comfort you desire.
Pocket-saving option: Getting the couch upholsteries cleaned by professionals is a far more pocket-friendly option than reupholstering the furniture.
We Offer A Same-Day Dry Couch Cleaning Facility
We are open for you 24/7, so you can book us anytime you want! Our skilled couch cleaners help schedule your couch cleaning programs within 24 hours of your booking. So, if you have a last-meeting event or party to host, you can book us early in the morning. Our competent couch cleaners will reach your doorstep on the same day, be fully equipped, and offer the best couch dry cleaning services. The best part is: we do not wet your couch fabric during the treatment, so you can use it immediately after our treatment.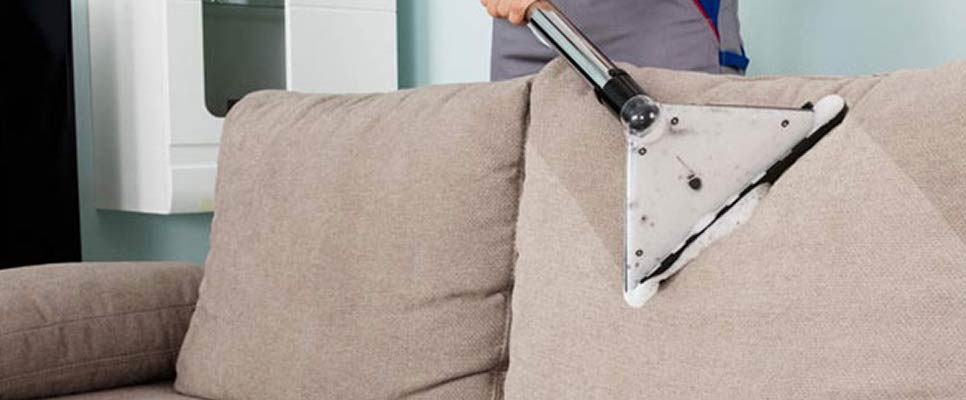 Remove All Kinds Of Stains From Your Couches With Our Experts
We are experts in removing all kinds of stains that are stubborn and deep-rooted. Also, we make sure that the colour of the couch fabric remains untouched during the stain removal treatment. Types of stains we are capable of removing include:
Pet excretion & vomit stains
Stains from nail polish, beverages, and sauces
Top-Of-The-Line Tips To Keep Your Couches Clean For A Long Span
Don't you want your favourite couch to last long? Then follow the below-enlisted tips strictly!
Vacuum your couch regularly in lower mode to eliminate loose dirt.
Flip your cushions frequently to avert dust and dirt to accumulate in them.
Try to remove the stains immediately before it gets trapped in the deep layers.
Make sure your couch and its fabric upholstery don't get direct sunlight.
Place your upholsteries in a well-insulated room.
Steps We Follow To Keep Your Couches Clean And Tidy
We follow a 6-step cleaning technique to reinstate your couch's showroom-like newness. But before everything, we cover the floor and surrounding area of the couch to make sure no cleaning solvents spill there.
We start our couch cleaning program with vacuuming, using high-powered vacuum suction.
Then we use a ph-neutral solvent to break oils from the stains and trapped dirt on the couch as a pre-treatment.
For pre-treatment, we apply the necessary solvents to dissolve the stains and surface soil.
Then we decide on the cleaning product that will be suitable for the fabric type.
Usually, for pricey couches and delicate fabric, we choose to offer couch dry cleaning services, otherwise, we proceed with steam cleaning.
At last, we deodorise, disinfect, and layer your couch with Scotchgard protectors to keep it shiny, nice-smelling, and stain-free for a long time.
Why Should You Opt For Our Couch-Cleaning Services In Adelaide?
It's our commitment to using advanced cleaning techniques, offering flawless cleaning results, and keeping service charges reasonable that have made us the favourite choice for couch cleaning in Adelaide. Our team members are courteous, honest, and punctual, and are committed to offering you the professional couch dry cleaning services.
We are proud to say that the products we use during our couch cleaning treatment are environmentally-friendly and safe to use inside the home.
Using the most suitable cleansing solvents, we treat stains from your couches without damaging the fabric quality or colour.
Our professionals make sure that the final result remains flawless with no trace of residues.
Both in product use and cleaning technique, we meet the standard norms and guidelines set by state law.
With us, you can get an onsite upfront quote that comes with no hidden charges or obligations.
We offer a no-obligation upfront quote with no hidden charges.