Bring Back The Gleaming Finish Of Your Upholstered Furnishings With CBD Couch Cleaning Adelaide
A dirty, greasy, and deeply stained couch not only makes your home/office appear unsightly but also questions the hygiene of your premises. An unclean couch can become the home of several disease-causing bacteria, germs, and living microorganisms that can, directly and indirectly, impact the health of your family members and pets, leading to respiratory ailments, weak immune systems, allergies, asthma attacks, etc.
To keep your couches clean, spotless, and disinfected, we at CBD couch cleaning Adelaide offer a comprehensive couch steam cleaning services at a pocket-friendly price rate. Our couch cleaning program is designed to remove stubborn stains trapped in the deeper layers of the fabric. The products and technologies we use during the cleaning treatment meet the standards set by state law.
Contact us for best Sofa steam cleaning services in Adelaide and nearby.
With customised cleaning solutions, we first break down the oils from the strain and remove them efficiently with the hot water extraction method. Our professionals use non-chemical and ph-balanced cleaning agents that do not harm the fabric of your couches or degrade the air quality in your premises. To make your booking, ring us up at 08 7100 9115 today!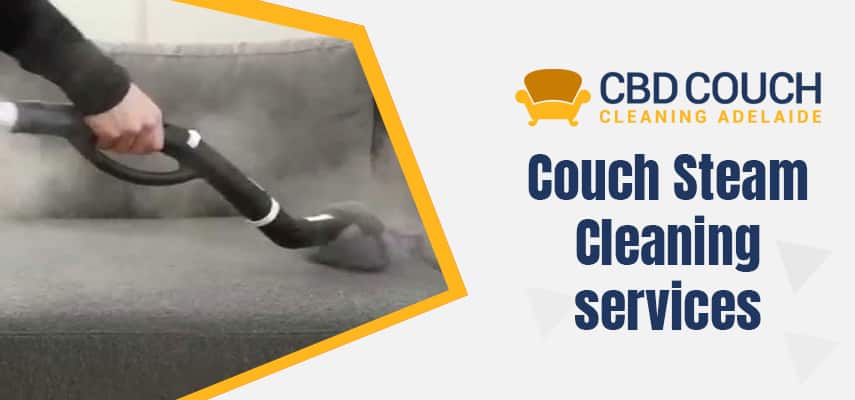 Get Same-Day SteamCleaning Services With Our Industry-Experts
Do you have an emergency event to host and thus need same-day steam cleaning Services? Well, we are just a call away! Our skilled and competent couch cleaners are dedicated to offering you quick and flawless couch-cleaning services! We schedule your emergency couch cleaning program within just 24 hours of booking. So to enjoy a same-day cleaning service, make sure to book us early morning. You can make your bookings both online and offline.
Appoint Our Steam Cleaning Experts To Remove Any Kind Of Stains From Your Couches
Stains can snatch away the beauty of your pricey couches instantly. And if you do not treat the stains immediately, they can penetrate into the deeper layers of the fabrics, making them impossible to remove. Worry not as our couch cleaning professionals have the expertise of handling a wide range of stains, without damaging the fabric texture or fading the fabric colour of the couch. Types of stains we are capable of handling include:
Water-Based Stains
Greasy Stains
Paint Stains
Vomit & Pet Excrete Stains
Blood Stains
Stains From Sauces, Nail Polish, And Beverages
Quick & Handy Tips To Keep Your Couch Clean For The Longest Time Possible
Here we have mentioned a few handy tips that can help you keep your couch in its best-fit condition for a really long time!
Regular light vacuuming can keep the loose dirt away.
Flipping cushions every now and then can prevent dust accumulation.
Treat stains instantly to avoid permanent stains.
Don't let your couch fabric come in direct contact with sunlight.
The room where the couch is placed must have indoor ventilation.
Licensed & Certified Steam Couch Cleaners In Adelaide
Each of the members working with us possesses Certificate III in couch cleaning operations. Moreover, they have years of experience, so you can have peace of mind that your couch and your investment are in safe hands! Also, our professionals efficiently clean all the hard-to-reach parts of your couch with our special steam cleaning techniques and heavy-duty equipment, ensuring the best outcome!
Our Step-by-Step Professional Couch-Cleaning Approach
To keep your couch spotless, soft, and cozy, we offer a fine-tuned cleaning solution depending on the fabric type. We usually undertake a 6-step cleaning method that involves the following methods
Before beginning the cleaning program, we first cover the floor with protective traps to make sure that it doesn't get wet with the cleaning solvents.
Then we thoroughly vacuum the couch with an advanced high-powered vacuum cleaner.
For pre-treatment, we apply the necessary solvents to dissolve the stains and surface soil.
Relying on the fabric type, we decide which cleaning agents or cleaning techniques to opt for.
For deep-rooted dirt and stubborn stains, we generally choose steam cleaning and for more delicate fabrics, we go with dry cleaning.
Finally, we disinfect the couch and apply Scotchgard protectors to create a barrier against dirt and stain for a long period of time.
Reasons to Opt for Our Couch Steam Cleaning Services?
Our customer-friendly facilities, cutting-edge couch cleaning techniques, and reasonable price rates make us a favorite choice of Adelaide people. Besides being skilled and competent, our professionals are well-mannered, punctual, and trustworthy and ensure a seamless and hassle-free steam cleaning and dry cleaning program. We are a leading couch cleaning service provider with 5-star ratings and reviews. Take a look at the reasons that make us your first-rate choice:
Embracing the 'Go Green' concept, all the products and solvents we use are eco-safe.
Employing modern tools and equipment, we clean your couches without damaging their colour.
The final result of our couch cleaning program is flawless with no left residue.
We obey all the norms and standards set by the government during our couch cleaning treatment.
We offer a no-obligation upfront quote with no hidden charges.
FAQs
Is it necessary to get professional couch steam cleaning services?
A routine professional couch cleaning service not only makes your couches spotless and sparkling but also eliminates germs, promoting hygiene inside your premises.
Will you offer an upfront quote?
Assessing the condition of your couch, we offer an onsite upfront quote that is free from hidden charges.
Can couch steam cleaning eliminate moulds?
Certainly, couch steam cleaning can help remove mould completely, making your couch allergen-free, nice-smelling, and spotless. Also, professionals employ preventive barriers to halt further mould and mildew growth.