Get Flawless Couch Stain Removal Service In Adelaide with CBD Couch Cleaning
Stains on couches are such mood killers, right? Also, it can leave a terrible impression on your guests. In case you are planning to replace it with a new one, we suggest trying out our couch stain removal service once! Not only is it a more budget-friendly option but also the final result will simply blow your mind! No matter how deep or ugly the stains are, our professional couch cleaners at CBD Couch Cleaning Adelaide will eradicate the stains efficiently with zero residues left!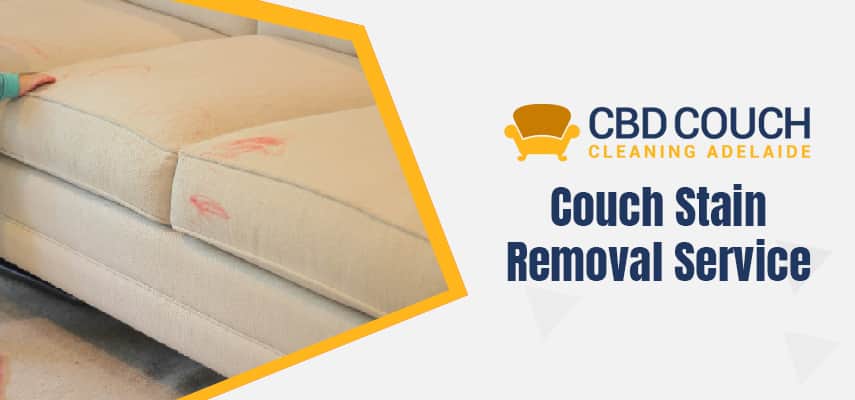 Treat Couch Stains From Accidental Spills Immediately
When you have kids at home, you cannot dodge accidental food or drink spills on your couch, leading to unsightly stains. Not only kids, even elders sometimes mistakenly tip over a cup of coffee or a glass of red wine. A lot of you can relate to these incidents as well! In such cases dial our number immediately. And till our arrival, blot out the extra spillage as the longer it remains on your couch, the deeper stain it leaves. Our competent couch cleaners at CBD Couch Cleaning use customised stain removal solutions as per your couch fabric and omit the ugly and obstinate stains in just one go, without damaging the fabric quality of colour.
Our skilled couch stain removal experts use industry-approved stain removal tools and solvents to eradicate almost any stain instantly. Our fine-tuned Couch stain removal treatments are designed to offer a foolproof outcome. And we proudly say that when everyone fails to remove the stain, we skillfully eliminate it.
Couch Stain Removal Solutions Adelaide
We specialise in removing deep-rooted obstinate stains that others fail to remove. Due to this reason, CBD Couch Cleaning is nominated as the #1 couch stain removal services provider in the entire city. In fact, we are the first choice of countless Property Managers in Adelaide as we are a living example that any stain can be removed in the first attempt.
We are capable of removing a wide range of couch stains, including:
Coffee Stains
Ink Stains
Red Wine Stains
Soft Drink Stains
Water Damage Stains
Rust Stains
Texta Stains
Beer Stains
Vomit Stains
Oil Stains
Juice Stains
Makeup Stains
Grease Stains
Urine Stains
Blood Stains
Lipstick Stains
Cordial Stains
Sauce Stains
Permanent Marker Stains
Tea Stains
Coke Stains
Each above-listed stain type is different and has its individual Couch stain removal technique and our skilled staff knows them all!
Tips To Remove Stains Completely From Your Couch
When your couch catches a stain, treat it promptly, if you keep making delays, the stain will penetrate deeper.
Know the stain type along with your couch type before using any stain-removal product.
Never rub on the stain, if you want to remove the extra spillage or stain, simply blot, brush, or scrap it out.
Before using any spot corrector or spot removal solution on your couch, do a patch test on a hidden area, and keep it for at least 10 mins before washing it off. If everything goes right, use it on the bigger surface.
Prevent the stain from spreading by removing the stain from its outer edge to its center.
If all these techniques fail to show good results, get in touch with us now and get guaranteed couch stain removal services. Our competent stain removal professionals apply Powerguard Protector to protect your couch from any more stains in the future.
Can Couch Stains Reappear? What Should You Do Then?
Some couch stains reappear in the exactly same spot after a few hours of stain removal treatment. Well, there are two reasons behind it: the stains are not at all removed. The spots or stains are just forced down underneath the couch surface using a high-powered steam cleaner. The moment the couch dries out completely, the stain resurfaces or pops up again! On the other hand, the soapy solvents used in spot removal treatment end up attracting more dust and dirt.
Your Investment In Couch Stain Removal Services Will Pay Off!
We have been serving the people of Adelaide for over 20 years and have earned a good name in the industry for our quality work and reasonable service charge. Like others, we do not run after money, rather we are after building a relationship with our consumers. So, you will never expect any cheap job from our end. We are not someone who loves making one-time business. Instead, we want you to choose us again and again, and also refer others. That is why besides keeping the value of your money we are ready to offer a free service if the final result is not up to the mark.
Contact Us any time for best stain removal services in Adelaide and nearby.